September 12, 2017
4G Clinical Certified as a Great Workplace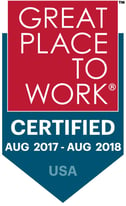 WELLESLEY, Mass., Sept. 12, 2017 /PRNewswire/ -- 4G Clinical was certified as a great workplace today by the independent analysts at Great Place to Work®. 4G Clinical earned this credential based on extensive ratings provided by its employees in anonymous surveys.

A summary of these ratings can be found at http://reviews.greatplacetowork.com/4g-clinical
"When we started this company in 2015, our vision was to build a team of world-class experts that had the right combination of humility, curiosity and intense focus on the patient. We are thrilled to announce our certification as a Great Place to Work and our commitment to both our employees and bringing crucial medicines to those who need them, faster," says Dave Kelleher, CEO of 4G Clinical.
"We applaud 4G Clinical for seeking certification and releasing its employees' feedback," said Kim Peters, Executive Vice President of Great Place to Work's Certification Program. "These ratings measure its capacity to earn its own employees' trust and create a great workplace - critical metrics that anyone considering working for or doing business with 4G Clinical should take into account as an indicator of high performance."
"According to our study, 100 percent of 4G Clinical employees say it is a great workplace," says Sarah Lewis-Kulin, Vice President of Great Place to Work Certification & List Production.
4G Clinical employees completed 31 surveys, resulting in a 90 percent confidence level and a margin of error of ± 4.45.
About 4G Clinical
4G Clinical is a full service RTSM company focused on simplifying and accelerating the drug development process. The company was founded in October, 2015, to develop a service offering centered around a 4th generation Randomization and Trial Supply Management (RTSM) system, Prancer. Headquartered in the heart of the Boston biotech corridor, in Wellesley, MA, 4G Clinical has facilities and staff located in the U.S. and Europe, and offers global expertise and advisory services to pharmaceutical companies and contract research organizations.
For more information, visit www.4gclinical.com
About Great Place to Work®
Great Place to Work® is the global authority on high-trust, high-performance workplace cultures. Through proprietary assessment tools, advisory services, and certification programs, including Best Workplaces lists and workplace reviews, Great Place to Work® provides the benchmarks, framework, and expertise needed to create, sustain, and recognize outstanding workplace cultures. In the United States, Great Place to Work® produces the annual Fortune "100 Best Companies to Work For®" list and a series of Great Place to Work® Best Workplaces lists including lists for Millennials, Women, Diversity, Small and Medium Companies and over a half dozen different industry lists.
Follow Great Place to Work online at www.greatplacetowork.com
Follow Great Place to Work on Twitter at @GPTW_US