4G Clinical Named to Fast Company's Second Annual List Of The 100 Best Workplaces for Innovators


4G Clinical joins Google, Dell, Diageo, Alibaba, Etsy, Nestle, and many others.
WELLESLEY, Mass., July 29, 2020 /PR Newswire/ -- Fast Company today announced its second annual Best Workplaces for Innovators list, honoring businesses and organizations that demonstrate a deep commitment to encouraging innovation at all levels. 4G Clinical came in at #8 for its dedication to building a culture that fuels innovation, curiosity and the spirit of experimentation in all facets of the business from product development and brand to services and staffing.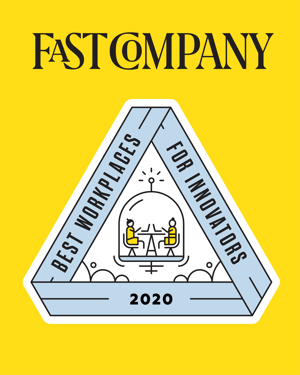 Developed in collaboration with Accenture, the 2020 Best Workplaces for Innovators ranks 100 winners from a variety of industries, including computer science, biotech, consumer packaged goods, nonprofit, education, financial services, cybersecurity, and engineering. Working together, Fast Company editors and Accenture researchers scored nearly 900 applications, and a panel of eight eminent judges reviewed and endorsed the top 100 companies—an increase from last year's list of 50. The 2020 awards feature workplaces from around the world with several of the honorees based outside the U.S.
"4G Clinical is a company anchored in purpose, stemming from an abject intolerance for how long it takes to get medications to patients," says David Kelleher, CEO of 4G Clinical. "There will always be things to do better, faster and safer. And without continued innovation in our technology, processes, and culture, we will certainly fail. We are honored to be named one of Fast Company's Best Workplaces for Innovators."
4G Clinical's culture thrives on open communication and collaborative thinking. The company's approach to development of its randomization and trial supply management (RTSM) and supply forecasting optimization software is based on agile software methodologies, with a focus on continuous, iterative feedback from customers, end-users and internal staff. 4G Clinical hires the best talent no matter where they reside, bringing the brightest minds together across the globe to challenge the status quo, center on purpose and to never just do what they are told. Innovation will continue to be a driving force to bring crucial medicines to those who need them, faster.
"As much of the world recovers from health, economic, and social crises, we need innovation more than ever," says Stephanie Mehta, editor-in-chief of Fast Company. "This new list of the Best Workplaces for Innovators celebrates organizations that have fostered innovative thinking by investing in technology, research and development, and their employees."
To see the complete list, go to: www.fastcompany.com/best-workplaces-for-innovators/2020
About 4G Clinical

4G Clinical is a global leader in randomization and trial supply management (RTSM) and supply forecasting optimization software for the life sciences industry, offering the only fully cloud-based, 100% configurable and flexible solutions utilizing natural language processing (NLP) to accelerate clinical trials. 4G Clinical is headquartered in the Boston Biotech corridor of Wellesley, MA, with offices in Europe and Asia. Learn more at www.4gclinical.com.