A Site-Based Approach to Drug Accountability in Clinical Trials
When it comes to drug accountability, there is no "one size fits all" approach.
Procedures are based on the level of accountability required, which can differ from study to study and can be largely dependent on the Investigational Product's (IP's) classification, formulation, method of delivery and packaging (i.e., narcotics require more detailed data collection than non-narcotics, medicine administered through a syringe may require you record to the vial, oral doses may require you to track to the batch or all the way to the individual pill, etc.)

No matter the process, the FDA mandates that you are able to present adequate evidence of traceability from the IP's initial release, to accountability, reconciliation and, eventually, destruction or you are putting your trial at risk.
Accountability Challenges at the Site Level
Sometimes the tools given to site personnel to perform accountability may not provide the level of information required. This leaves site monitors relying on paper-based solutions, multiple systems or a mix of both to capture the additional data. These methods pose a variety of challenges.

Paper records are time consuming, error-prone and require site monitors to compile documentation on each kit shipped, returned and destroyed, manually.

The usage of multiple systems force site monitors to duplicate data entry, leaving sites open to a number of reconciliation challenges.

Imagine this, your site monitor retrieves shipping information from the RTSM, dispensing information from the EDC, and uses a separate reconciliation system to verify, but when they go to review the data between the systems, they don't match. Which system is right? Where did the error originate? It becomes a treasure hunt to track down what actually happened.
Strengthening Compliance with Modern RTSM Technology



In order to ensure GxP, sponsors need to streamline the method of how the chain of custody information is collected. One way to do this is with an RTSM. An RTSM offers one central depository for all accountability information, removing the burden of duplicate and manual data entry.

Plus, if you opt for a 100% configurable, modern RTSM solution you can also benefit from advanced accountability, return and destruction functionality. With features like temperature excursion tracking built in, you are able to pull critical supply information directly into the accountability record, enhancing data accuracy.

A configurable RTSM can offer unparalleled flexibility for IP destruction procedures. Sponsors can assign different procedures to different sites depending on the available resources and capabilities of the individual location. For example, if site A is able to destroy on location but site B must return remaining medication back to the warehouse for destruction, the RTSM can adjust to enable both. This functionality can be turned on and off for any site and at any given time, allowing sponsors to organize their processes in a way that is most cost and time-effective for their trial.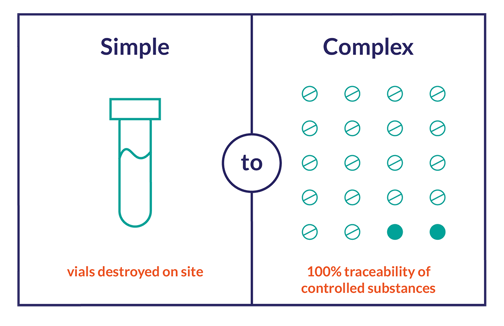 Bridging the Gap between Site Requirements and System Capabilities



Inadequate accountability is the third most common reason sites fail FDA inspections.

First and foremost, poor accountability can put patient safety at risk. As a sponsor, it can also lead to major complications when performing reconciliation at the end of the study. One way to prevent these issues and encourage compliance among site personnel is by streamlining processes and providing tools that align with site level requirements.

The good news is that today's modern RTSM technology can adapt to any flavor of traceability required by the site. The caveat is that you need to communicate with your sites and vendors early enough to make a difference.